The FFA still has plants for sale! Contact Mrs. Krafft or stop by if you'd still like to purchase some!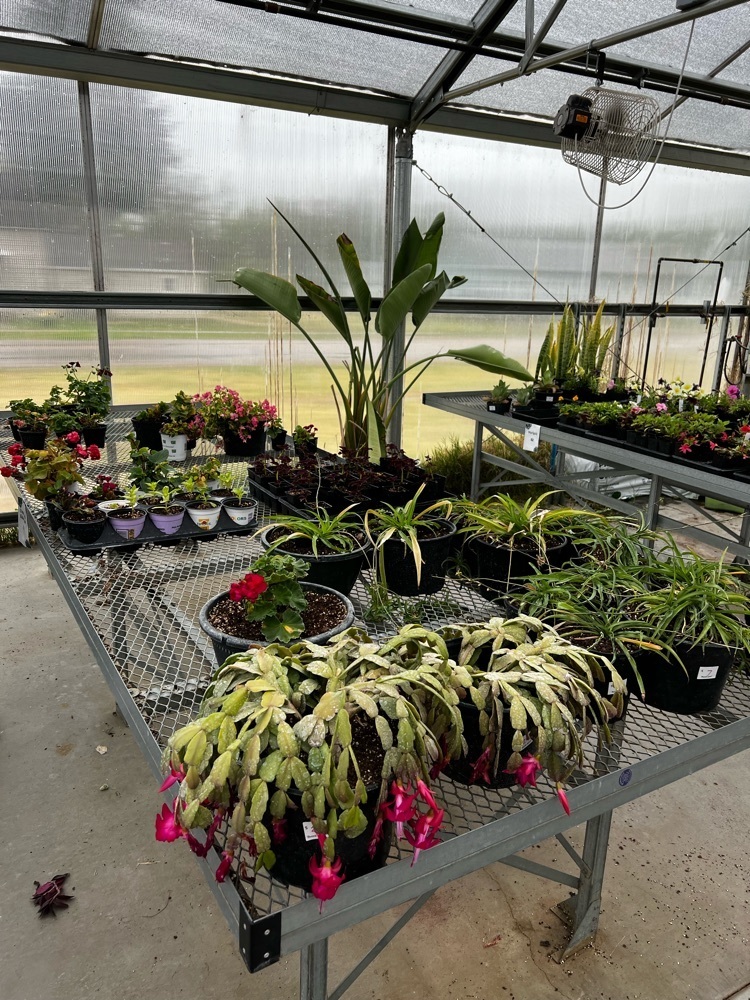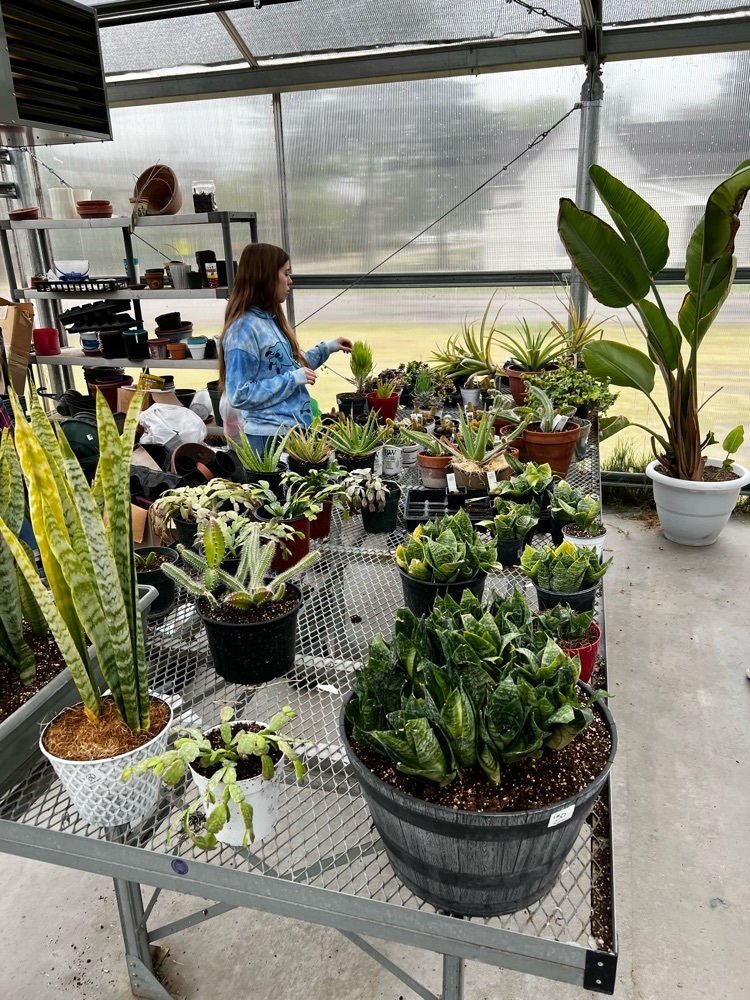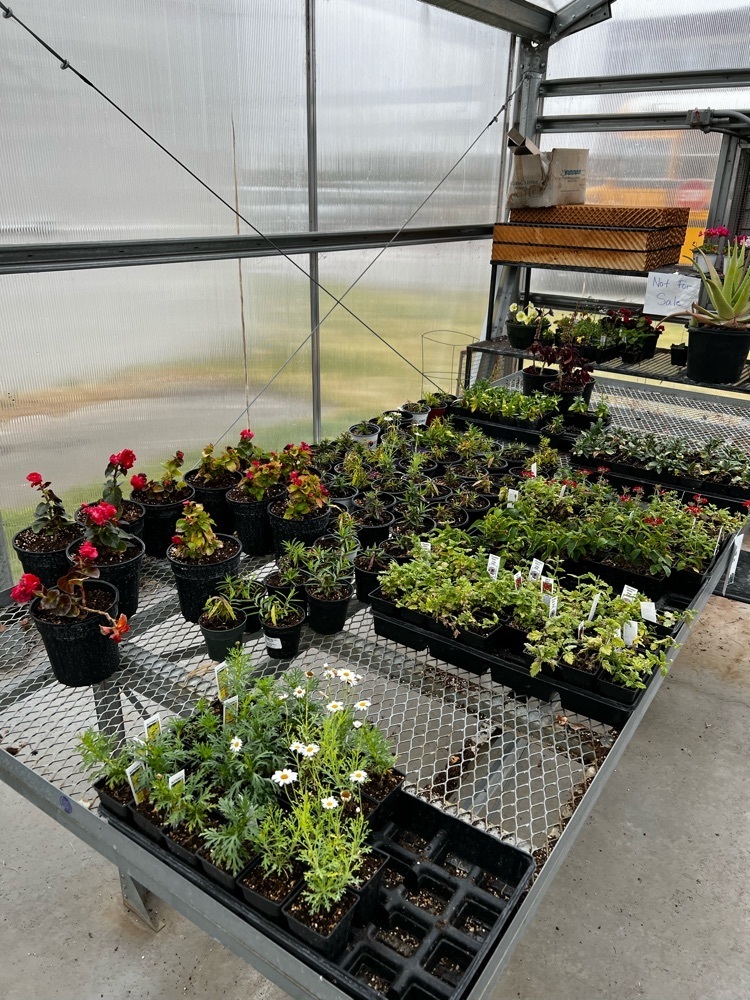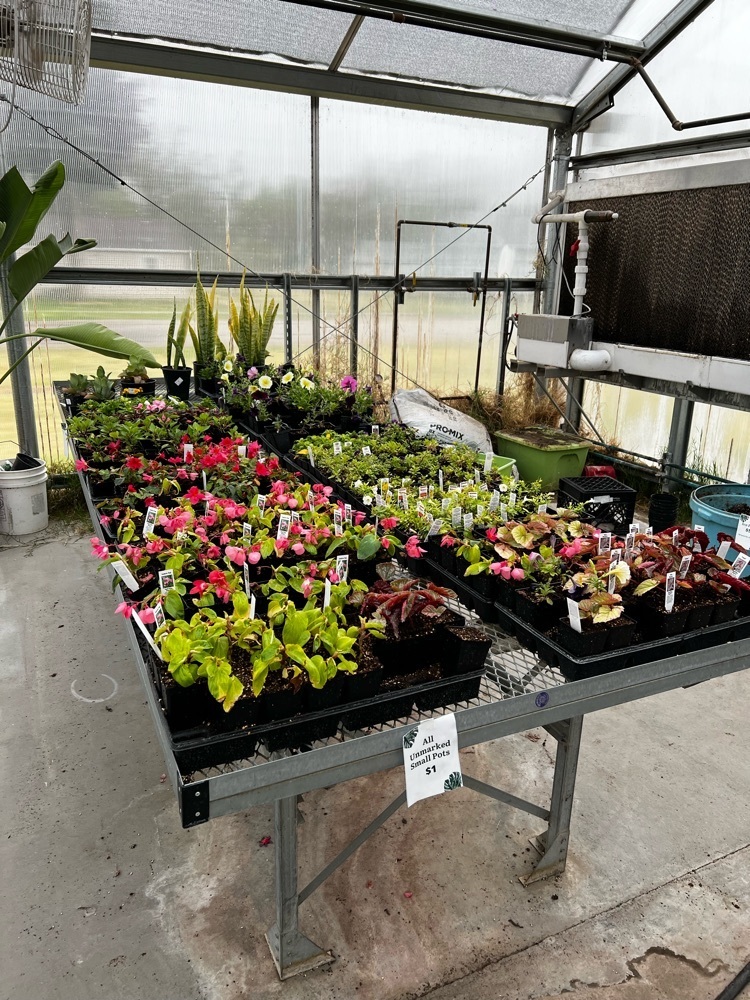 Schedule for Friday's track meet in Mankato.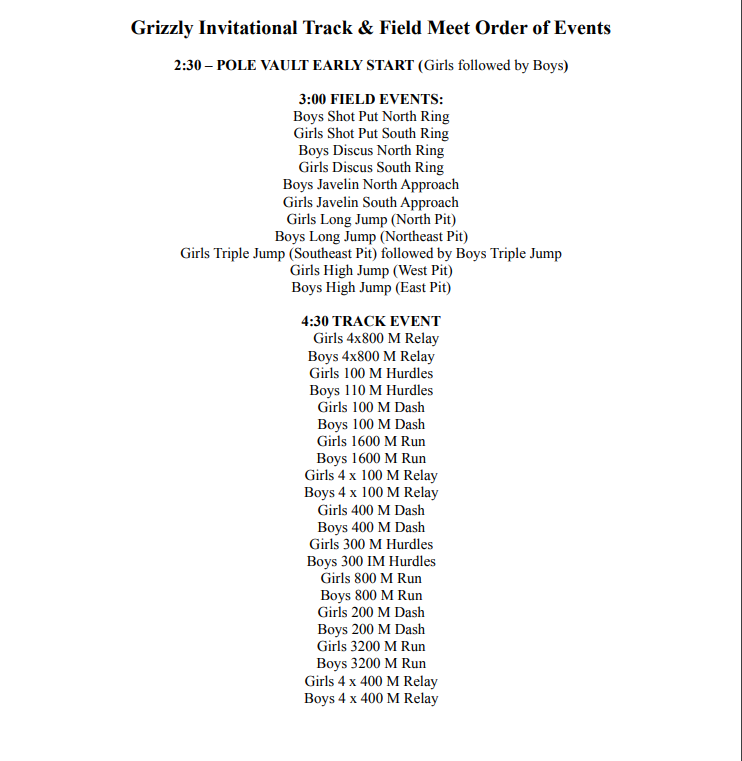 Schedule for the High School Track Meet in Logan tomorrow.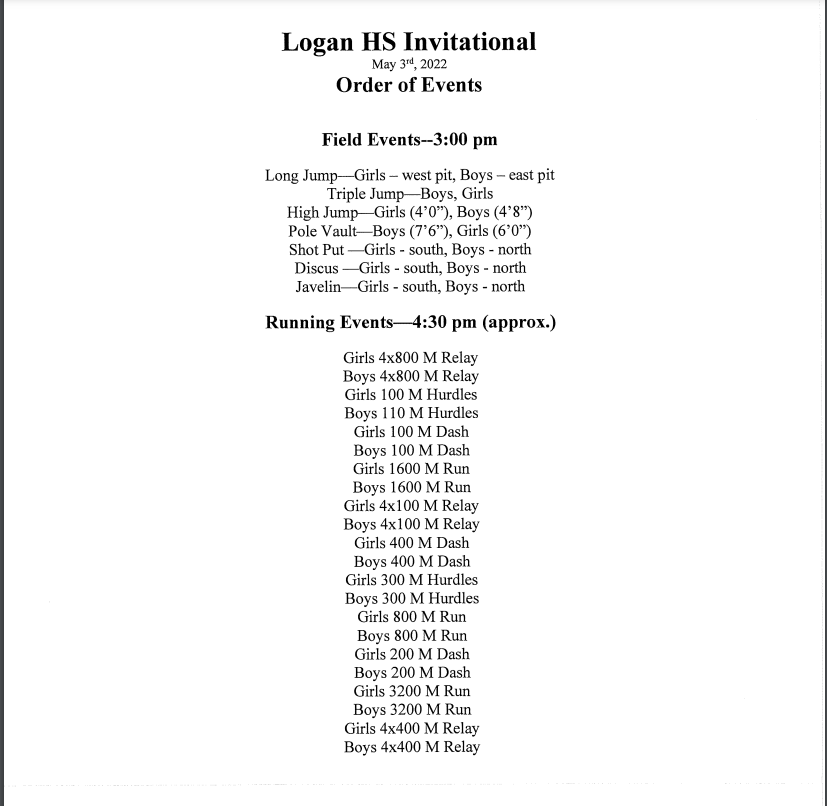 Order your 2022 yearbook now! $35 They will be delivered in August when school starts.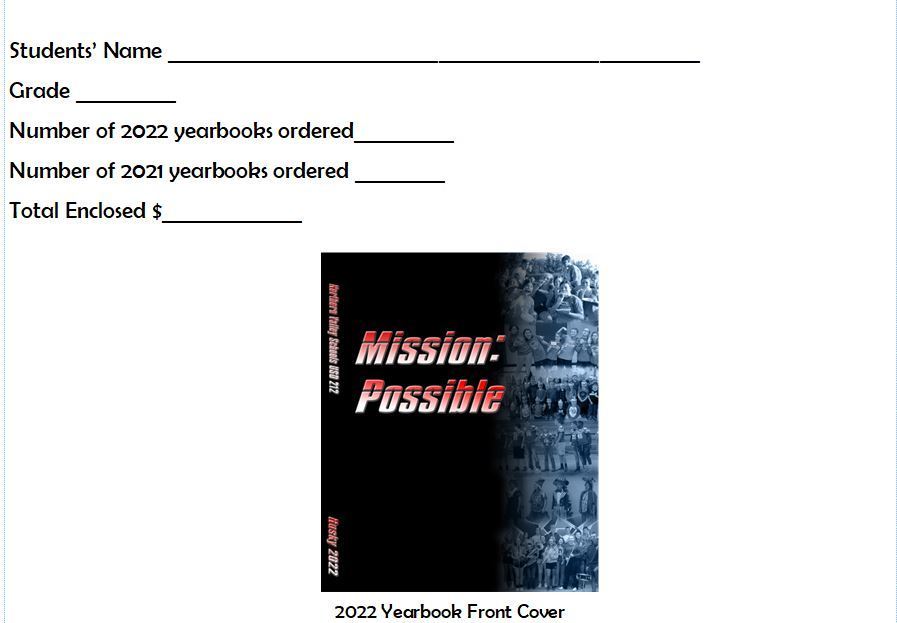 Come support the Northern Valley FFA!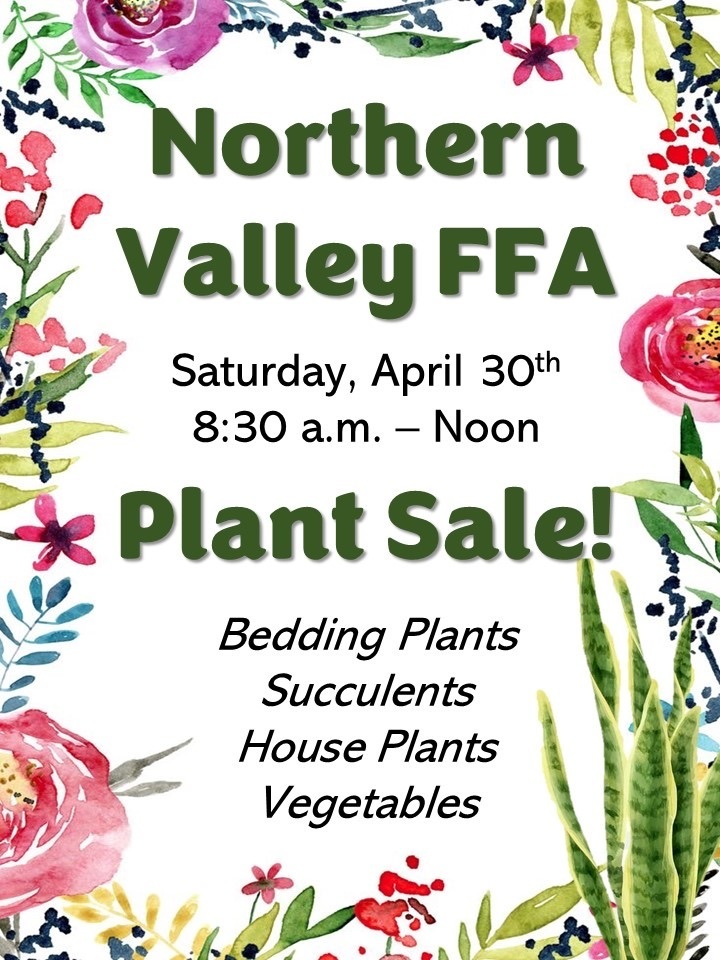 This year's Students of the Month enjoyed lunch at Destination Kitchen today!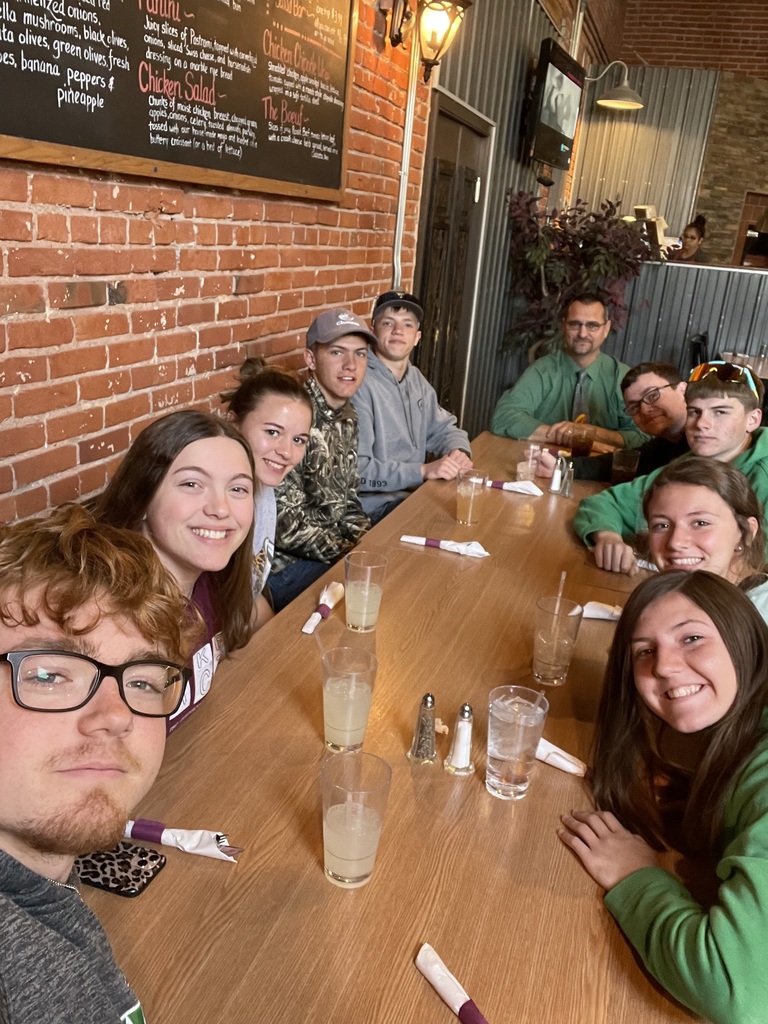 The freshmen got the chance to tour Colby Community College today! They were able to visit with admissions, a financial aide representative, academic advisor and tour the campus.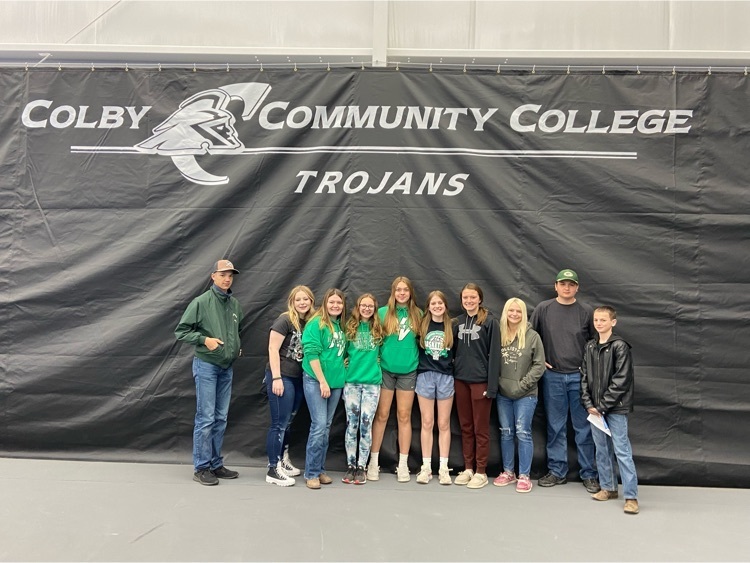 Cancellation-Due to severe weather potential, we will NOT be attending Osborne's track meet today. Be safe!

Order of events for tomorrow's high school track meet in Osborne.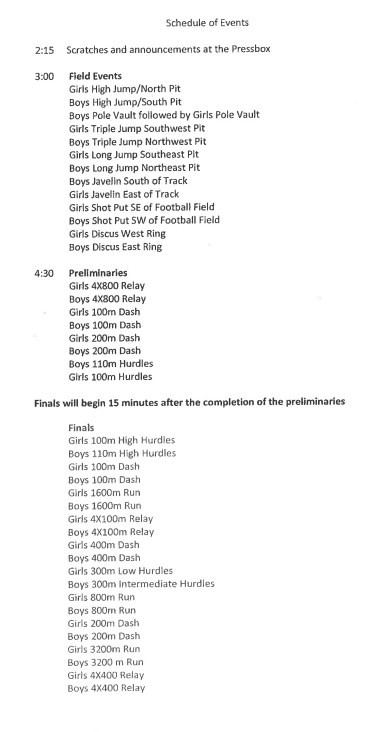 April 15, 2022 5th – 8th Grade Parents, It is with deep sadness that I send this letter out. Yesterday, we lost Mrs. Hollie Kendall in a car accident. Mrs. Kendall was a para professional at NVJH and did a great job working with students. She cared deeply and was willing to do whatever it took to help the students succeed. Services for Mrs. Kendall will be Tuesday, April 19th at 10:30am at the Huck Boyd Center in Phillipsburg. A bus will be provided for all 5th – 8th grade students along with staff to attend the service. The bus will depart the school at 9:30am and plan on returning after the service around 12:00pm in time for lunch in Long Island. If a student is uncomfortable in attending the service, or if a parent is uncomfortable in sending their child, that is acceptable. We just ask that those requests are communicated to the school, so alternate plans can be made. Yesterday was a tough day, but it was also one of pride in seeing our students and staff rally together and support each other through such a tragic event. A vigil will be held tonight in the Long Island school gym from 6pm to 7pm. All are invited to share and honor the life of Mrs. Kendall. Marvin J. Gebhard PreK-8th Principal

Juniors visited Fort Hays State University today!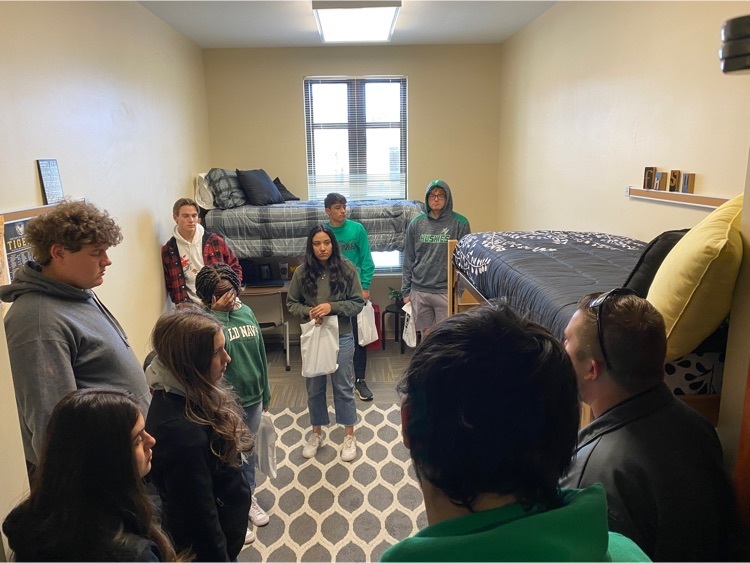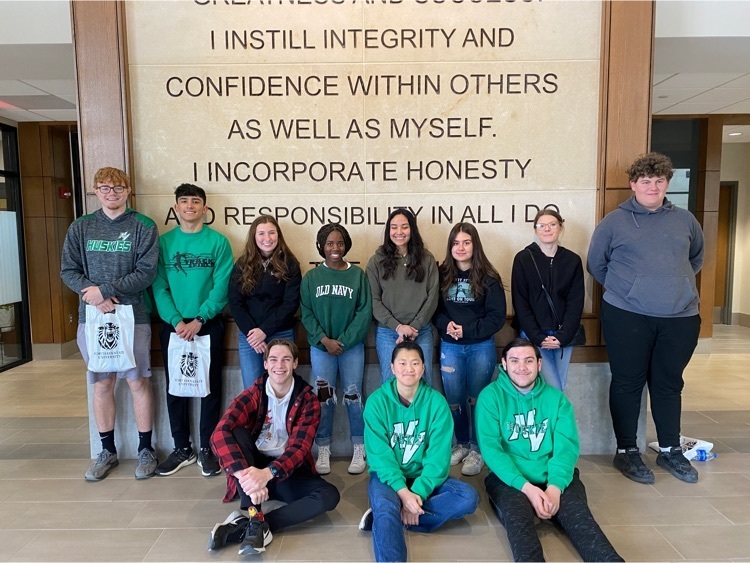 The Easter Egg Hunt will be on Saturday, April, 16 at 2:00 p.m.! View the flyer for more details.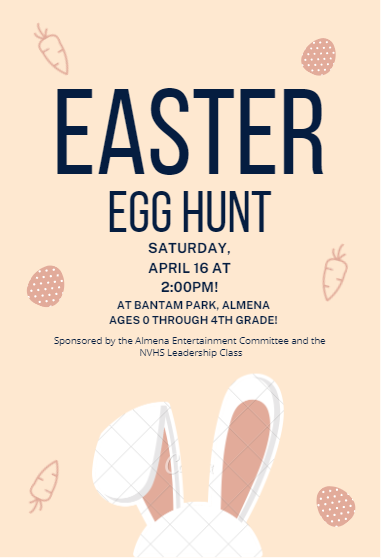 Our April Student of the Month was Rebekah Henrickson!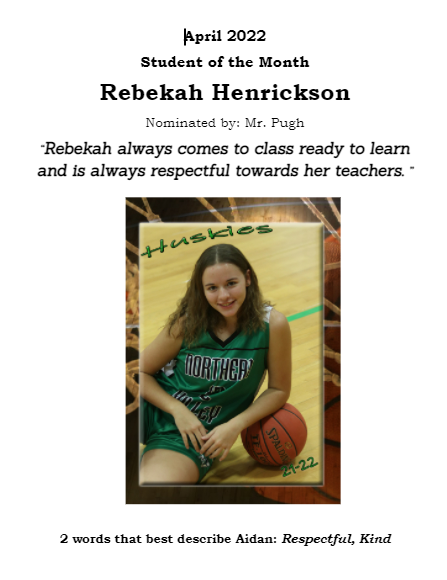 Our March Student of the Month was Aidan Hammond!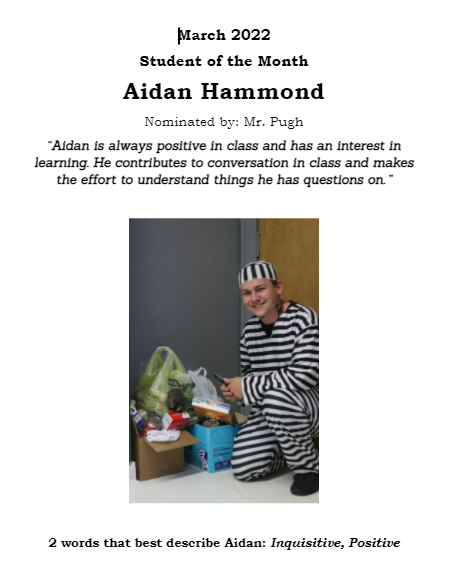 On April 2, 2022, the NV forensics team headed toward Rexford. Haley Hansen and Landry Gebhard took 7th with their duet. Kai Cox and Aidan Hammond took first in their IDA (Improvised Duet Acting) and Kai Cox took 2nd with his Serious Solo. Aidan Hammond took 3rd with his Prose piece. Caden Lowry took a Prose piece and did amazing as well. Unfortunately, I was unable to go because of family. However, I thank Emily Lowry and Jill Gebhard for helping out with the team! Great job all!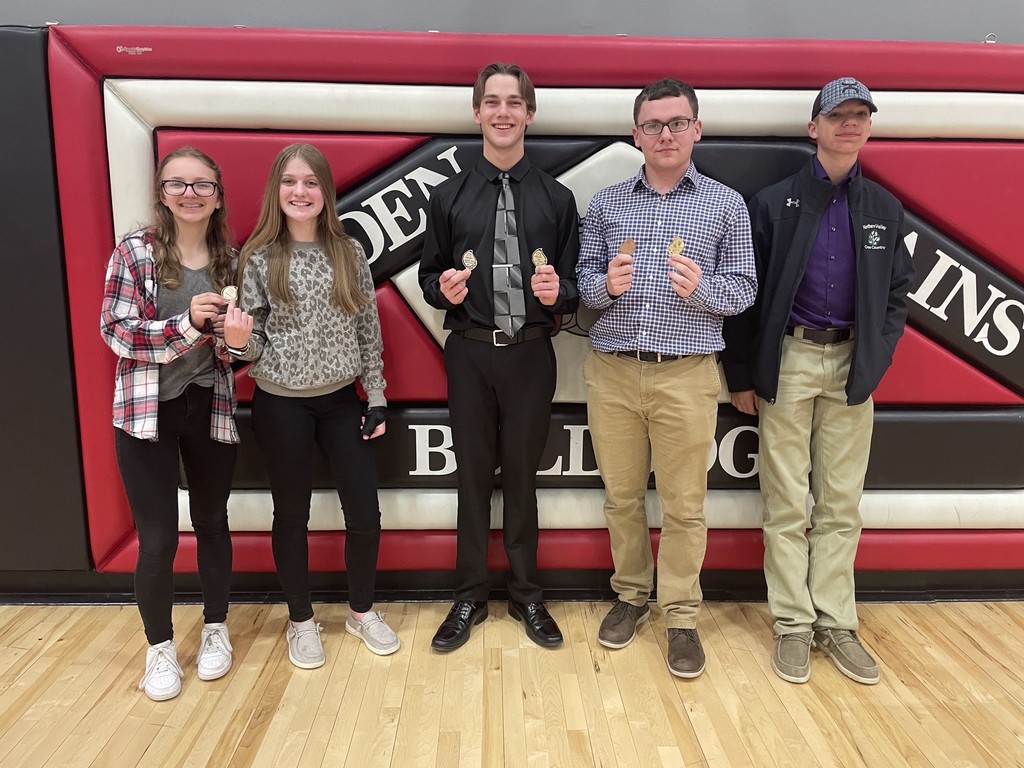 We have exciting news about the creation of a Sensory Room at the Elementary School. Click on the link below for more information. Thank you to everyone involved in making this project possible!
https://5il.co/18jh7

Intro to FACS has been learning about pregnancy and early child development. They made water babies and will get to "parent" them for 48 hours.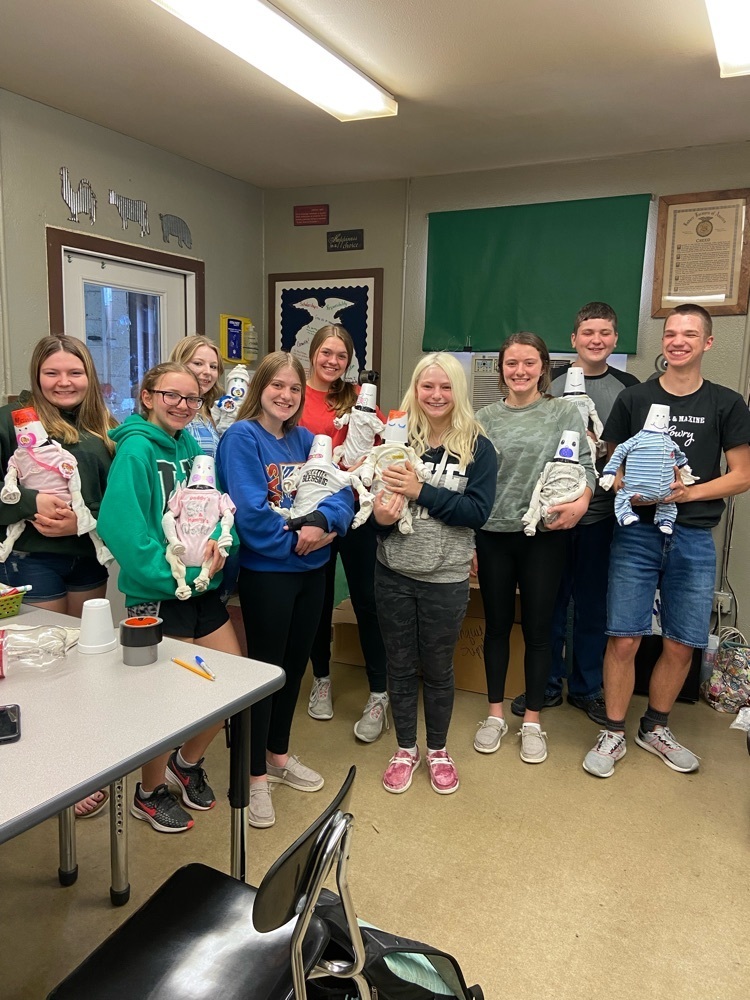 Ga Ga Ball in freshmen PE class!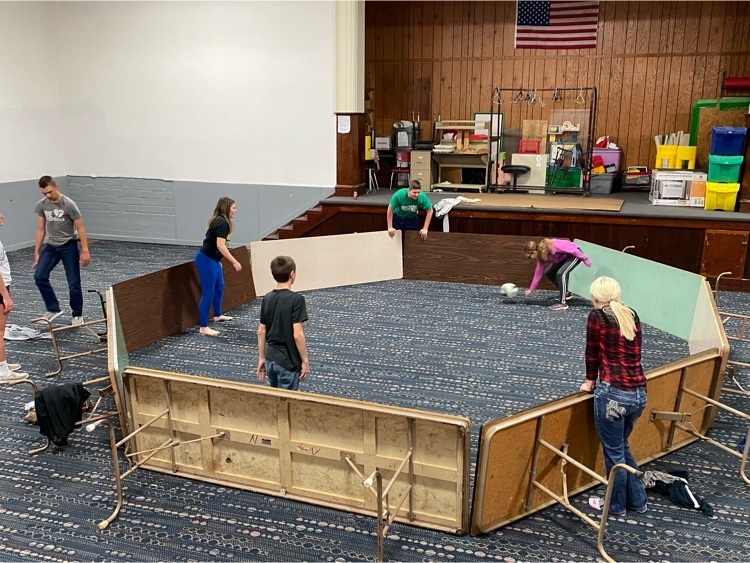 The Husky Golf Team took on the winds at Smith Center Invitational. The meet was stopped after 9 holes due to the weather. Bailey Sides won the meet shooting a 43. Brody Preston also placed 9th with a 49. Foster Brands shot a 54, Eric Loya shot a 56, and Jason Cox shot a 59. Overall, a very successful way to kick off the 2022 season!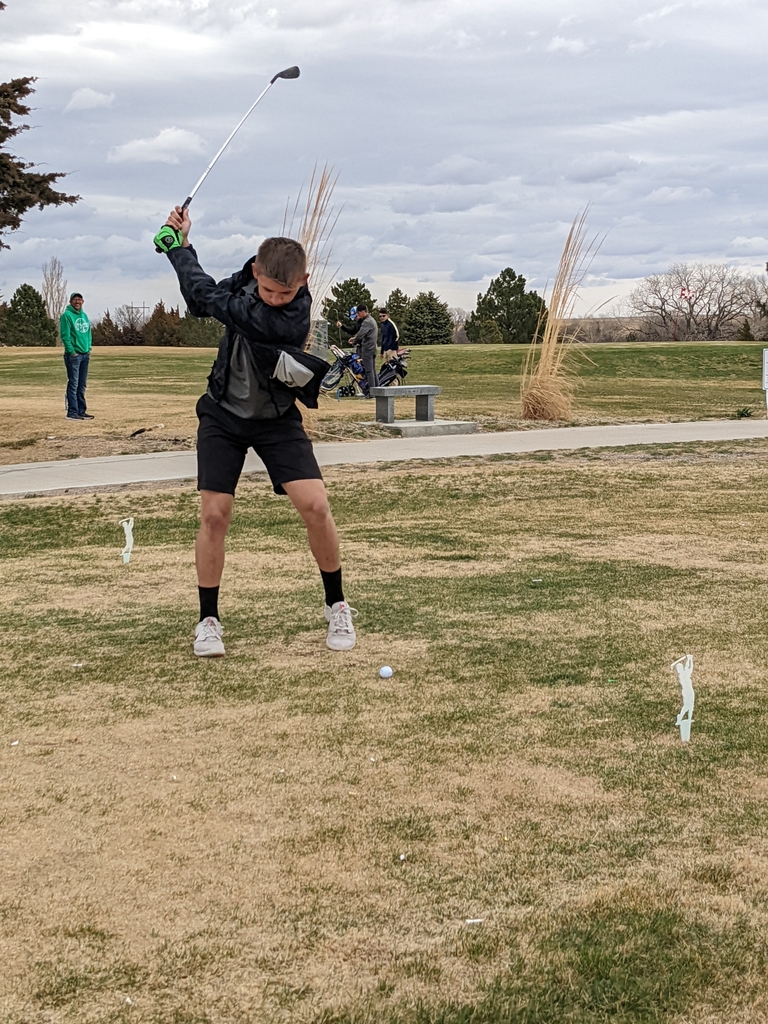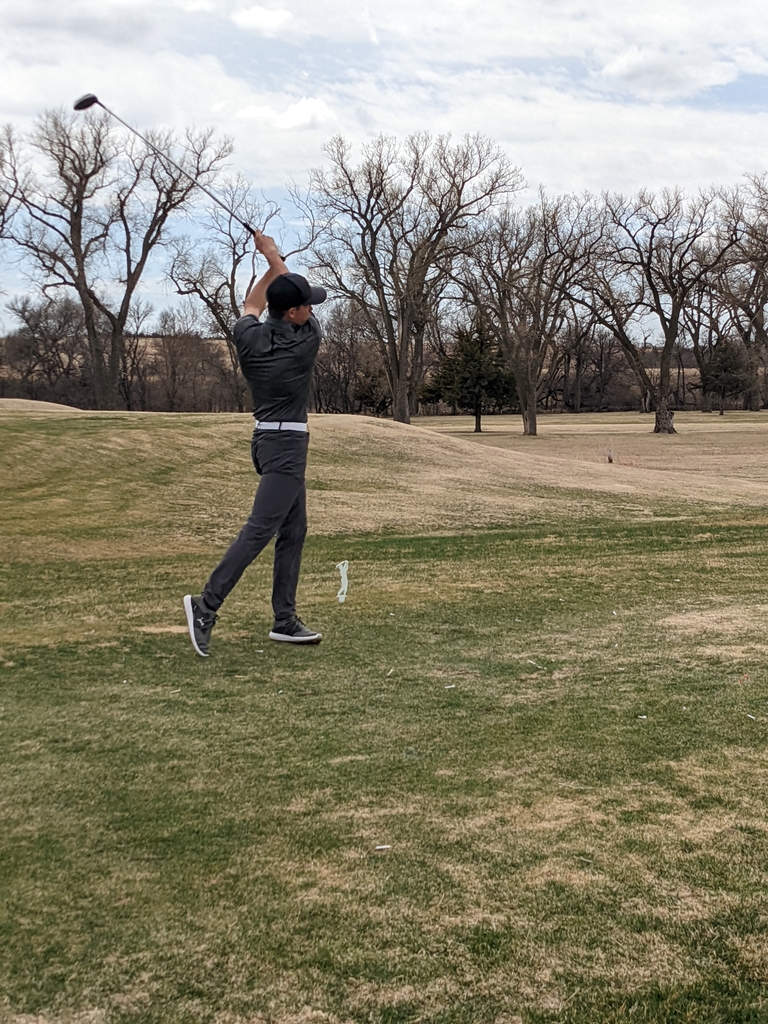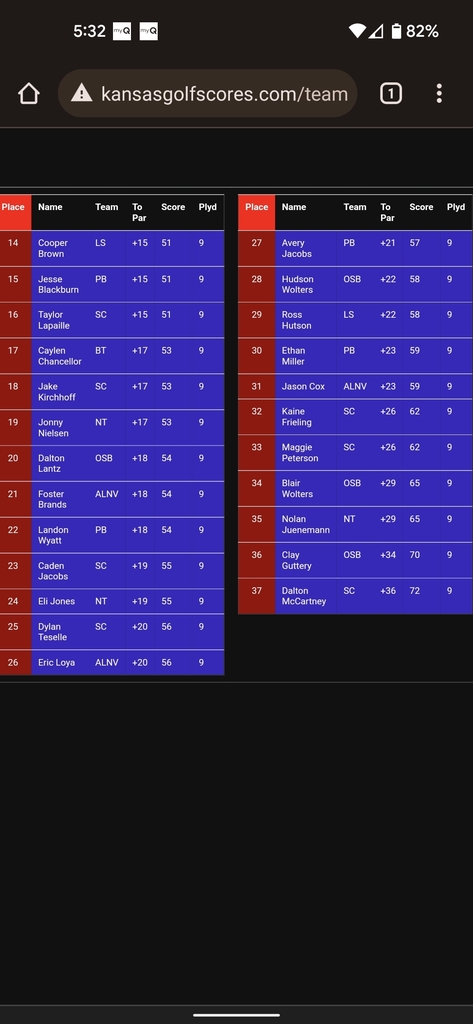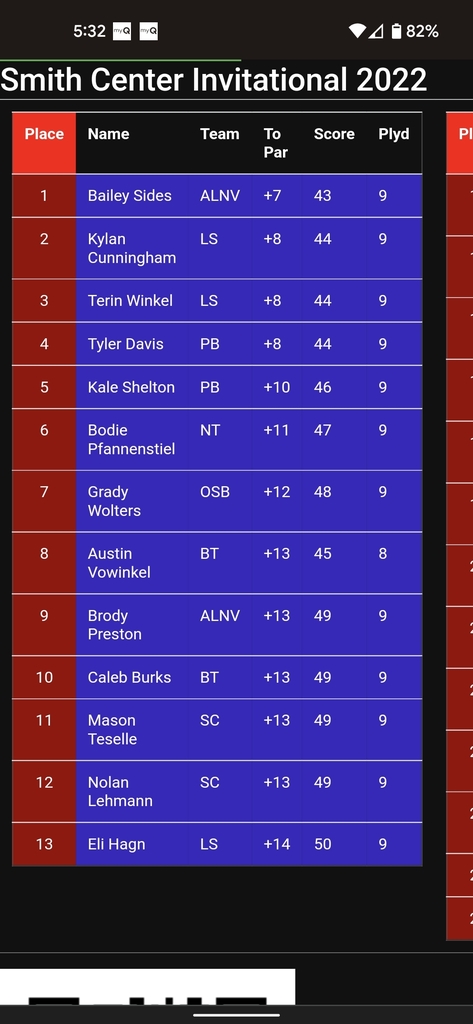 Just a reminder that Spring Pictures will be taken next Tuesday, April 12! There will not be a retake date for Spring Pictures. Click on the link to view the flyer for more information.
https://5il.co/186b2